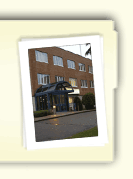 About Us
Meeker County Memorial Hospital (MCMH) is a 38-bed, county-owned hospital located in Litchfield, Minnesota.
History
The Hospital's history in Litchfield dates back to 1897, beginning as a privately operated hospital. The Litchfield Hospital was built in 1910, as a shareholder, not-for-profit hospital. That hospital operated until 1952, beginning with 16 beds and later expanding to 40 beds. In 1952, a new hospital building was erected. Meeker County Memorial Hospital (MCMH) is still a nonprofit hospital serving the Litchfield community. MCMH was originally licensed as a 70-bed hospital and expanded to a 91-bed hospital in 1970.
As health care changed, so did MCMH. Beginning in 1988, MCMH looked closely at changing health care and responded to trends of growing outpatient service needs. The Hospital began major renovation projects to decrease the total bed size to 38 inpatient beds and provide space to deliver more outpatient services.
Today, after major renovations in 1989, 1992, 1995 and 2003 we offer responsive medical services in an up-to-date and well-equipped facility convenient to patients. MCMH continues to keep in step with the most current and sophisticated diagnostic, rehabilitation, surgical and treatment procedures. We offer inpatient and outpatient services that continue to change as we meet your needs.
MCMH is committed to "Reaching Out With Care" with a mission to serve you. We take this mission seriously to administer the finest health care we can provide to you and your family.
Mission
To provide high-quality health care services responsive to the residents of the Meeker County area
Vision
To be known as an organization that provides state-of-the-art health care services accompanied by outstanding, personalized care
Values
In fulfilling our mission and realizing our vision, we value the following:
A commitment to quality that ensures the safety of our patients
A partnership with our medical staff to achieve excellence in the care we deliver
A relationship with our employees that allows them to grow and develop
Participation in our community to make the Meeker County area a healthy place to live
MCMH is a county-owned hospital and is accountable to the County Board of Commissioners. MCMH is governed by an eight-member Hospital Board that includes two County Commissioners, The Chief of the Medical Staff and five community representatives from our service area.
Location
612 South Sibley Ave.
Litchfield, MN 55355
Phone: (320) 693-3242
Fax: (320) 693-4567
Values
In fulfilling our mission and realizing our vision, we value the following: